09: Rise of the Machines
In this week's episode on innovation: Self Check-out • AI-generated Comedy • Failed Innovations in History • and more...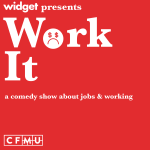 In this week's episode: we're looking at innovation! Self check-outs, AI-generated content, and failed innovations from history. That's right, we look from every angle at how to do silly robot voices.
Visit our show page on CFMU or view the Work It archives for more episodes. Or find us on: iTunes, Pocket Casts, Overcast.fm, Spotify, Google Play Music, Stitcher, and TuneIn Radio.