10: Entrepreneurin'-soaked Hell Hole
In this week's episode on entrepreneurship: The Juicero Story • Caveman Entrepreneurs • Pyramid Schemes • and more...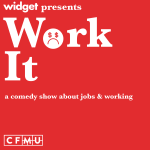 In this week's episode: we're looking at entrepreneurship! From entrepreneurship case studies like Juicero, to the history of the world's first (caveman) entrepreneurs, this is one that will improve the lives of absolutely everyone who hears it – hears it and sends us money. Lots of money.
Visit our show page on CFMU or view the Work It archives for more episodes. Or find us on: iTunes, Pocket Casts, Overcast.fm, Spotify, Google Play Music, Stitcher, and TuneIn Radio.