30: Drenched in Gore, Each and Every One of Us
In this week's episode: Emotional Support Clowns • John Candy & Robin Williams take you on a cruise • toilet basketball • a leadership quiz • and more…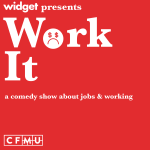 In this week's episode: Emotional Support Clowns • John Candy & Robin Williams take you on a cruise • toilet basketball • a leadership quiz • and more…
Have you ever wondered what was the best holiday present that the readers of Evil HR Lady ever received was? Friend, we've got you covered.
Josh Thompson and his emotional support clown received wide coverage, including this piece from The Guardian. Honk honk! Splat!
And as for being drenched in gore… Frankly, it's hard not to be sick.
Visit our show page on CFMU or view the Work It archives for more episodes. Or find us on: iTunes, Pocket Casts, Overcast.fm, Spotify, Google Play Music, Stitcher, and TuneIn Radio.
Also, please consider following us on Facebook, Twitter, and Instagram where we're @WorkItPod. Please subscribe on YouTube, where you can search for 'Widget Magazine' and try and find us.