29: Hoedown Throwdown
In this week's episode: 2 Truths & a Lie • A Maple Leaf Foods Hoedown • Deskterior Design • A Word from the Carbuncle Party • and more…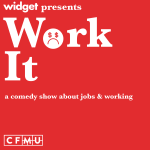 In this week's episode: 2 Truths & a Lie • A Maple Leaf Foods Hoedown • Deskterior Design • A Word from the Carbuncle Party • and more…
Do you hate yourself? Well then, subject yourself to Kevin Carmichael's absolutely worthless article here. I dunno, maybe this is written for the hate-click economy and we shouldn't give it the time of day…
The 'deskterior' phenomenon is addressed by the BBC here. Perhaps elsewhere too? Oh, and feel free to order Sam one of these mega-sweet Bernie Sanders dolls. Or, if you are more into locking up the parents of truant school children, there's a doll for you as well.
Want to enjoy some of the hits from the Work It countdown? The Work It anthem first appeared (in full) in episode 3 on leadership. Get down to Funky Janet in episode 8 at our holiday party.

This next song deserves its own indented bullet point! What can you say about Quincas Moreira and Bongo Madness?! Our theme/buffer music was one of the first things that got us excited to do Work It. We found it in the YouTube audio library and were immediately like, "That's it! That's the one!" Quincas was nice enough to answer our email giving his blessing for us to use it in the show when we were preparing our first episodes. Thank you, Quincas! You absolutely rule.
Visit our show page on CFMU or view the Work It archives for more episodes. Or find us on: iTunes, Pocket Casts, Overcast.fm, Spotify, Google Play Music, Stitcher, and TuneIn Radio.
Also, please consider following us on Facebook, Twitter, and Instagram where we're @WorkItPod. Please subscribe on YouTube, where you can search for 'Widget Magazine' and try and find us.