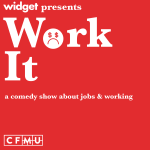 In this week's episode on unions: Planet Office: Union Organizer • Union Dudes • A World Without Unions • and more…
Yes, Sam realizes he said "episode 16" in the intro when he should have said "15". You can't fire him, he quits!
Our closing banter on recent union news could send you down a reading-list rabbit hole. Here's some pieces on:
Visit our show page on CFMU or view the Work It archives for more episodes. Or find us on: iTunes, Pocket Casts, Overcast.fm, Spotify, Google Play Music, Stitcher, and TuneIn Radio.
Also, please consider following us on Facebook, Twitter, and Instagram where we're @WorkItPod, and YouTube, where you can search for 'Widget Magazine' and try and find us.