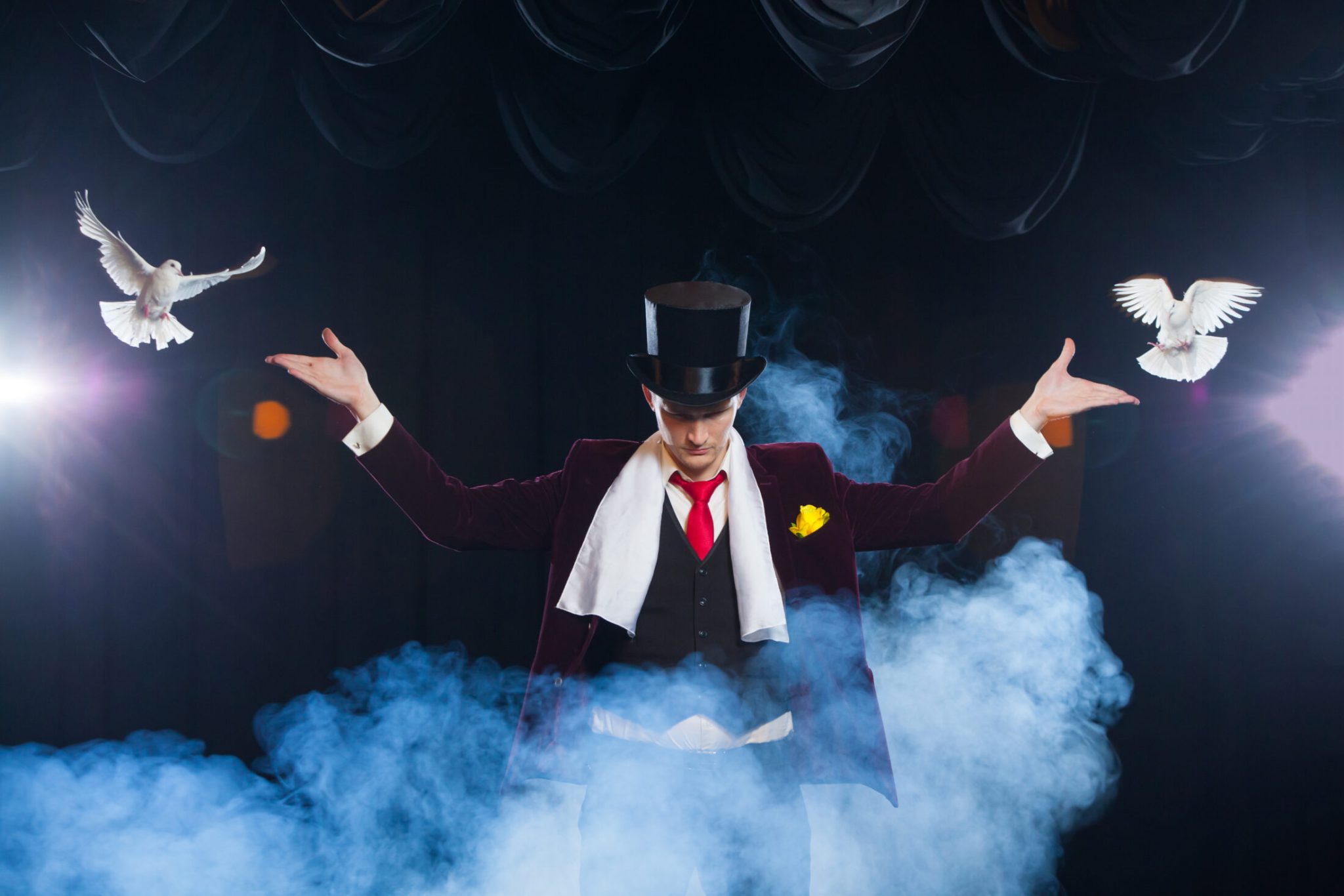 Review Of A Magic Show By A Woman Bitter She Wasn't Chosen As An Audience Participant
What makes a magician truly great is knowing which audience members to choose as volunteers. And unfortunately, Orlo the Outstanding did not choose me.
What makes a great magician? Mind bending illusions? Onstage charisma? A sequinned top hat? Those elements help, but what makes a magician truly great is knowing which audience members to choose as volunteers. And unfortunately, despite his skilful tricks and witty banter, Orlo the Outstanding did not choose me as an audience participant.
Last Friday evening, I settled into the front row of The Oracle Theatre, as Orlo, along with his two beautiful assistants, Marla and Laila, took the stage. Orlo asked for a volunteer and I raised my hand, but Orlo chose a man in the third row for his Cabinet of Mysteries. Couldn't he see that I was bursting with pure volunteer potential? A voluntary supernova ready to explode! "Okay," I thought, "Orlo must be saving me, his best would-be volunteer, for a better trick."
Perhaps my reputation had preceded me? For I am not only the Mattoon Journal Gazette's premier entertainment reviewer, but also Mattoon IL's preeminent magic audience volunteer. I was first bitten by the audience participation bug back in grade school, at Shelby Martin's tenth birthday party. Arthur the Astounding picked me to help him make Shelby's kitten, Midnight, disappear. I did such a good job, they never found the kitten again. And so, just as my grade school popularity died, my gift was born.
But here was Orlo, ignoring me, a volunteer pearl in a sea of sweaty tourists and boisterous bachelorette parties. After slicing Marla in half and making Laila float through a metal ring, Orlo asked for three more volunteers. Again I raised my hand, but Orlo chose three young women in the second row. Watching the three airheads giggling through Orlo's act, made me boil with rage. My hand had been in the air much quicker than theirs had. The three flaxen-haired floozies had no respect for what it means to be a volunteer at a magic show, dropping the cards they were instructed to hold and taking selfies on stage. 
Orlo, did they teach you nothing at the dime store magic school whose classes you obviously slept through? Maybe if you'd have been paying attention, you'd know that a volunteer legend was sitting in seat A-14. When David Blaine had me secure his straight jacket, I did such a good job he dislocated both his shoulders trying to get out. When Penn & Teller asked me to set fire to Teller's hair, it actually caught, making the notoriously silent magician utter his first word onstage in his career. (Assuming "Ahhhrrrhhrhggghh!" is a word.) When Criss Angel brought me onstage, he said mine was the first mind he couldn't freak – hear that, Orlo? Unfreakable! Over and over again, I've been told that my presence was the most memorable part of every magic show.
When Orlo needed someone to hold one end of a scarf, he didn't choose me. When he wanted a person to think of a celebrity's name, he didn't choose me. When he said he needed the whole audience to concentrate to help him levitate, he specifically pointed to me and said, "Not you. You aren't part of this. They warned me about you. What you've done. What you are."
For his final trick, I was determined to make sure I was chosen. When Orlo asked for a volunteer, I stood up, and confidently walked on stage. "No, no, get that monster off my stage," said Orlo. He snapped his fingers and Marla and Laila dragged me away. I watched Orlo complete his show from the back of the theatre and then I snuck backstage to his dressing room. "Why didn't you choose me, Orlo?" Tears leaked from my eyes, his rejection like a thousand bees stinging me directly in the heart.   
Orlo sighed and removed his sparkling top hat. "You're the woman who killed every one of Abra-Ca-Darren's magic doves. You left Presto Pete in an irreversible coma and got Card Trick Rick tried in International Court for crimes against humanity. You made Wanda the Wonderful cut her husband in half – and not during a show! You 'volunteered' to help them chop coconuts on their honeymoon in Costa Rica and when they told you to leave, you grabbed Wanda's arm and made her slice open her own spouse!"
Orlo pulled a sepia photograph from his pocket. "Houdini's last show. Look! There in the front row. Who is that?" I flinched, confronted with my own visage, there among the crowd.
"I don't know who or what you are, but I'm not letting you sabotage my career," said Orlo, jamming his finger in my face.
"Please," I simpered, "Just let me pick a card, any card."
"No," said Orlo, "Get out of here."
"Fine," I growled, "But I'll be there, every night, sitting in the front row, until you choose me. They all choose me, eventually."
One out of Five Stars. Orlo the Outstanding will play two weekends at The Oracle Theater, then continue on his world tour for as long as he can last.
---
Author's Pick
I have read a lot of books during pandemic time. Here are some of my favorites!
Hidden Valley Road by Robert Kolker
Tender Is The Flesh by Agustina Bazterrica
My Best Friend's Exorcism and The Southern Book Club's Guide To Slaying Vampires by Grady Hendrix
The Vanishing Half by Brit Bennett
Shit, Actually by Lindy West
Nothing to Envy by Barbara Demick
Educated by Tara Westover
Little Eyes by Samanta Schweblin
Bunny by Mona Awad
Valentine by Elizabeth Wetmore
The Nickel Boys by Colson Whitehead
The Broken Earth 1,2,3 by N.K. Jemisin
Hench by Natalie Walschots
I am a picky reader and these are all guaranteed A+ books.