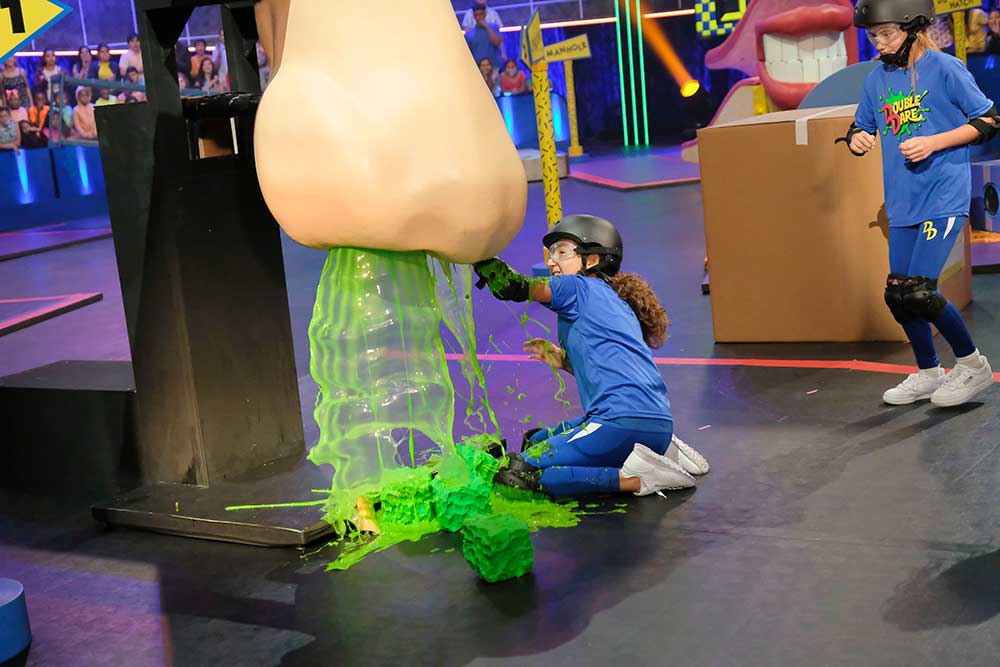 Things Only 80s Kids Who Went On Double Dare And Absolutely Boned It Will Remember
You could make up for earlier stumbles by totally crushing it in Pie In The Pants. They should have called it Pee In The Pants since that's what you did.
The ultimate dream for every 80s kid was to be on the super sloppiest game show of all time, Nickelodeon's Double Dare. But for some of the kids who actually made it on the show, living their fantasy was too much for them to handle, and they totally choked, completely self-destructed, and absolutely boned it. Here are things that only 80s kids still traumatized by their televised childhood flame-out will remember.
Failing To "

Go!

" When Host Marc Summers Said "On Your Mark. Get Set.

Go!

"
Every Double Dare episode kicked off with a frenzied physical challenge after host Marc Summers said those iconic words. If you managed to make it on the show, being so close to Nickelodeon royalty blew your pre-pubescent mind. While you were staring at Marc, frozen in thought, looking like a weird, smiling JCPenney mannequin (but creepier), the other team was quickly popping the 6 balloons filled with chocolate pudding to win $20 and control of the board. You could feel the heavy weight of failure starting to crush your one chance at happiness.
Whiffing On The Easiest Trivia Question Ever
The Double Dare trivia questions were total gimmes. So when you were asked "Who is the longtime host of The Tonight Show?" you didn't even consult your partner before answering. You idolized this man! You've even dressed as Carnac the Magnificent for every Halloween since you were 7 years old. Without hesitation, you confidently said "Jimmy Carter." There was an audible gasp from the Nickelodeon Studios audience. Your partner shrieked "Johnny Carson!" But it was too late. Your colossal brain-fart had cost you $10 and awarded you a lifetime of shame and regret.
Totally Splatting During The Pie In The Pants Physical Challenge
Luckily, Double Dare wasn't about trivia smarts. It was about showing your athleticism! You could make up for earlier stumbles by totally crushing it in your favorite physical challenge, Pie In The Pants. All of your focus went into catching the catapulting whip cream pies in the oversized clown pants. But then you immediately slipped on whip cream and your legs flailed out like a newborn fawn's running on ice. You thrashed for 30 seconds trying to find your footing and finally splatted face first without catching a single pie. They should have called it Pee In The Pants since that's what you did while spiralling into self-destruction.
Tossing Your Tacos All Over Robin
In Double Dare's second round the points doubled, so one physical challenge win could put you back on top! Co-host Robin helped you into a giant foam taco shell; up close, her heavenly fragrance had you enraptured – "Is that Cotton Candy Lip Smackers and Aqua Net?" you wondered. Sensing your feeble mind wandering, she grabbed you by the shoulders, slapped you across the face, and said, "Listen kid, all you have to do is stand there and you'll win the game. Just freeze up like a statue, like you have in every previous challenge, while your partner dumps cheese, salsa, and lettuce on you from above, and you'll get on the board."
Her tough-love coaching won you the challenge, but her cotton candy musk was so overwhelming that you spewed all over her high waisted jeans. The camera captured it all so you could watch it over and over again in slow motion for decades.
Locking Up In The Gum Drop During The Final Obstacle Course
The only thing standing between 80s kids and some of the raddest Double Dare prizes was a 60-second, super sloppy obstacle course. First up was the Gum Drop where all you had to do was drop from a platform into a big funnel of balls and shoot out of the kid-sized gumball slot. Easy, right? Unless your knees locked up and you couldn't even fall to let gravity do the rest. But out of nowhere you felt two strong hands on your back and a rush of plastic balls as you flew through the shoot. Marc Summers, unable to tolerate your flame-out any longer, gave you the push you needed to succeed.
The Nickelodeon Studios audience fell into a shocked silence. You looked up at Marc from your back at the bottom of the Gum Drop. His chest was heaving with adrenaline. Then he bellowed the words every 80s kid wanted to hear: "Harvey, tell them what they've won!"
Winning The Only Prize You Deserve
Sure, Double Dare's orgy of the senses looked fun, but at the end of the day it was all about the prizes. As you recovered from getting the wind knocked out of you after eating shit as a human gumball, your mind raced: Did you win the NES video game system? The Gibson electric guitar? Or maybe the ultimate Disney vacation to Buena Vista Palace Resort? You heard Harvey the announcer clear his throat. Usually his voice was enthusiastic and playful, but he delivered the single prize announcement in a quiet, nervous monotone: "A Garfield watch."
You continue to wear this lame prize every day as a penance for when you lived the ultimate 80s-kid fantasy and supremely boned it.
---
Author's Pick
TV shows like At Home With Amy Sedaris, Stath Lets Flats, and Arrested Development are joyfully, unapologetically absurd, and I can watch the over and over again. I also love the podcasts Smartless, Conan O'Brien Needs A Friend, and WTF with Marc Maron. And if I need to snuggle into a happy place, I watch the house hunting program Escape To The Country.
Anything else?
Fun fact: I'm originally from La Crosse, WI—birthplace of Old Style (beer), La Croix (water), and Ed Gein (murderer).