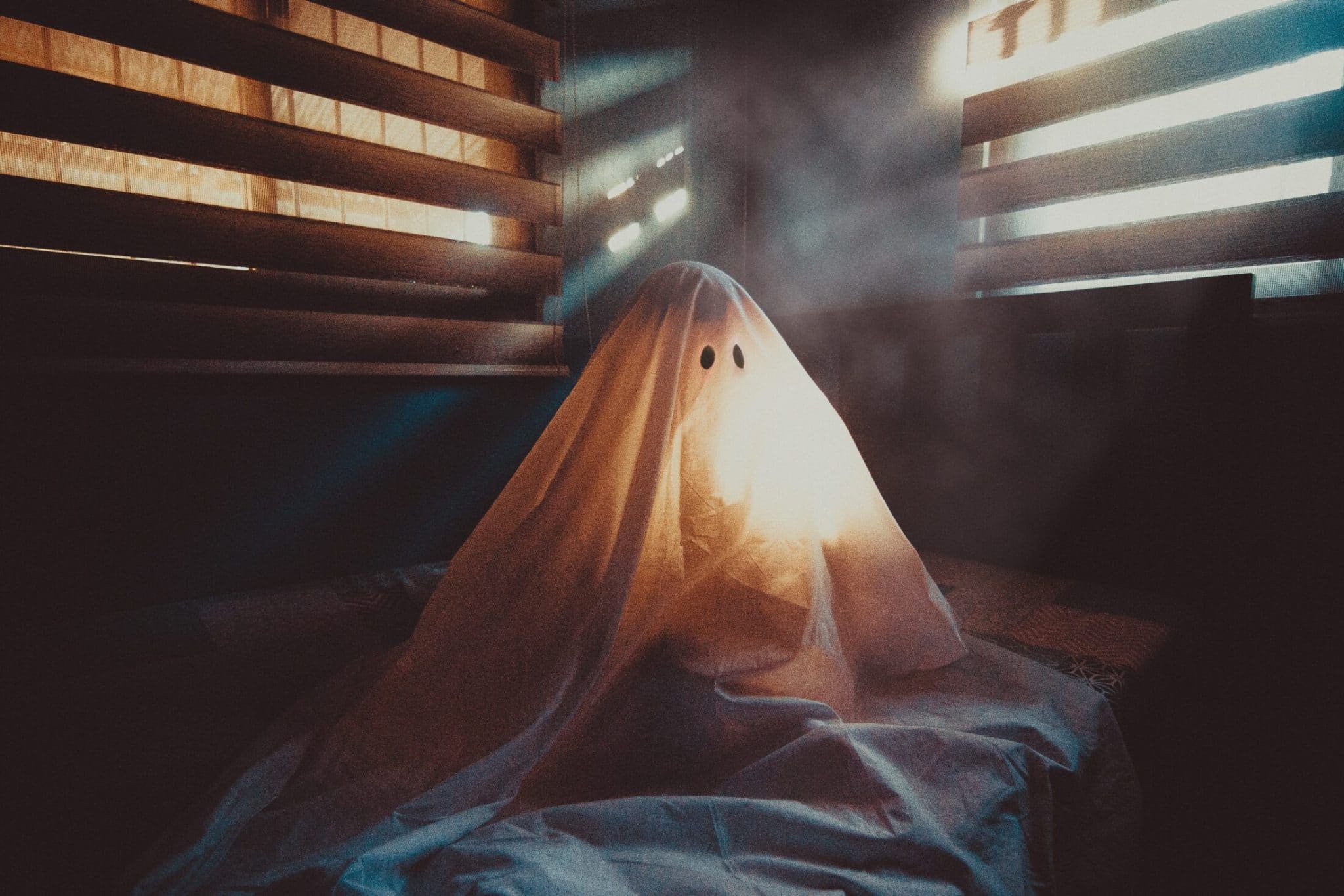 Living With My Grandma's Ghost Makes Sex Awkward
We tried getting romantic in the full size bed. We tried the sitting room on the plastic-covered accent chair. We even tried to do it on the stair lift.
I thought inheriting my grandma's old house when she passed would be weird. It was the setting for so many musty-smelling memories: building a fort under the chaise longue, getting cornered in the backyard by a rabid raccoon, making pantsuits for all of the dolls so they could be taken seriously…
I thought the grief of her memory lingering everywhere would overwhelm me. Her favourite song rang out from her music box and her image loomed over us from her portrait in the dining room. But then, as I washed the pans, I heard her voice echo in my ear, 'use the steel wool, it works better on grease' and when I looked up her ghost was sitting on the counter, knitting!
The first couple of days were great. Granny's ghost and I had long talks about how to properly seed the lawn and the weird thing the gutters did in the winter. We had a pretty short talk about how she died (she drank expired milk) and what being a ghost was like (boring).
A week in I realised I didn't want to redecorate. Who doesn't love patterned wallpaper and a glass bowl of Sour Ball hard candy? I tried to soften the blow of this news to my husband by giving him a not-so-soft blow – but as my head neared his zipper, my grandma popped in to use the room for her calisthenics, so I stopped abruptly.
My husband was not too happy about that. Moreover, he did not appreciate having to share a full size bed, he hated the multiple 'Faith It Til You Make It' needlepoint pillows, and he was feeling really desperate to cum.
So we tried getting romantic in the full size bed, despite being distracted by the floral duvet. We tried it in the sitting room on the plastic-covered accent chair. We even tried to do it on the stair lift. In each of these locations, as soon as we started, my grandma interrupted by floating in through the wall and begging us to look at more slides of her cousins. I don't know about you, but I don't feel super great having sex in front of any member of my family, especially my most dearest meemaw, so it was a bit of a sticky predicament.
I suppose I could have just asked her to distract herself for a while, but it was just kind of… you know… awkward. It's not like she had anything to do, she was dead. She couldn't even turn up the TV volume as needed, on account of her ghost hands. But if I'm being honest, a big part of the awkwardness was that somewhere deep inside I hoped that even though she knew I was married, Grams still thought I was a virgin.
After about five months my husband begged me to sell the house and move back to the city, but I couldn't leave Grandma like that. Not to mention housing prices had dropped and I wanted to at least wait for a seller's market.
Without the sex, my husband and I realised we didn't have much in common.
From what I hear he moved in with a woman from work. She also has a ghost in her house, but apparently it's just a ghost dog who doesn't get in the way of their coitus.
Honestly, I'm much happier now that he's gone. My grandma is a much better housemate than my husband, and I think her Depression-era saving skills are really helping me budget. If only I didn't have to hear her masturbating…
---
Author's Pick