37: Feelin' Finance
In this week's episode on finances: Darren the Underpaid Worker • NuMoney • The Many Ways to Ask for a Raise • Snarfles & Max • and more…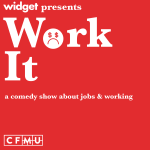 In this week's episode on finances: Darren the Underpaid Worker • NuMoney • The Many Ways to Ask for a Raise • Snarfles & Max • and more…
Alex Gilson mastered the episode. Alex also handles sound on Adult Swim's fantastic This is Branchburg podcast with Brendan and Cory.
Visit our show page on CFMU or view the Work It archives for more episodes. Or find us on: iTunes, Pocket Casts, Overcast.fm, Spotify, Google Play Music, Stitcher, and TuneIn Radio.
Also, please consider following us on Facebook, Twitter, and Instagram where we're @WorkItPod. Please subscribe on YouTube, where you can search for 'Widget Magazine' and try and find us.