33: The Work It Hallowe'en Party
In this week's episode, it's the Work It Hallowe'en Party • Very Bad Ghost Stories! • A Nightmare Machine • Trick or Treating • and more…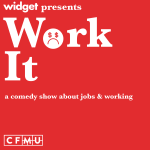 In this week's episode, it's the Work It Hallowe'en Party • Very Bad Ghost Stories! • A Nightmare Machine • Trick or Treating • and more…
Julia McCloy read "I'm the Man With the Flower Growing Out of his Butt in the Hieronymous Bosch Painting and I'm Putting in My 2 Weeks Notice."
Julia is a very funny writer you should follow here:
Josh Klasco provided editing assistance. Josh has previously contributed COVID Cover Letter here at Spooky, and his other humour writing, including "Biden Sucks, Vote Biden" from McSweeney's, can be found at https://www.joshklasco.com/.
Alex Gilson provided engineering. Alex also handles sound on Adult Swim's fantastic This is Branchburg podcast with Brendan and Cory.
Visit our show page on CFMU or view the Work It archives for more episodes. Or find us on: iTunes, Pocket Casts, Overcast.fm, Spotify, Google Play Music, Stitcher, and TuneIn Radio.
Also, please consider following us on Facebook, Twitter, and Instagram where we're @WorkItPod. Please subscribe on YouTube, where you can search for 'Widget Magazine' and try and find us.