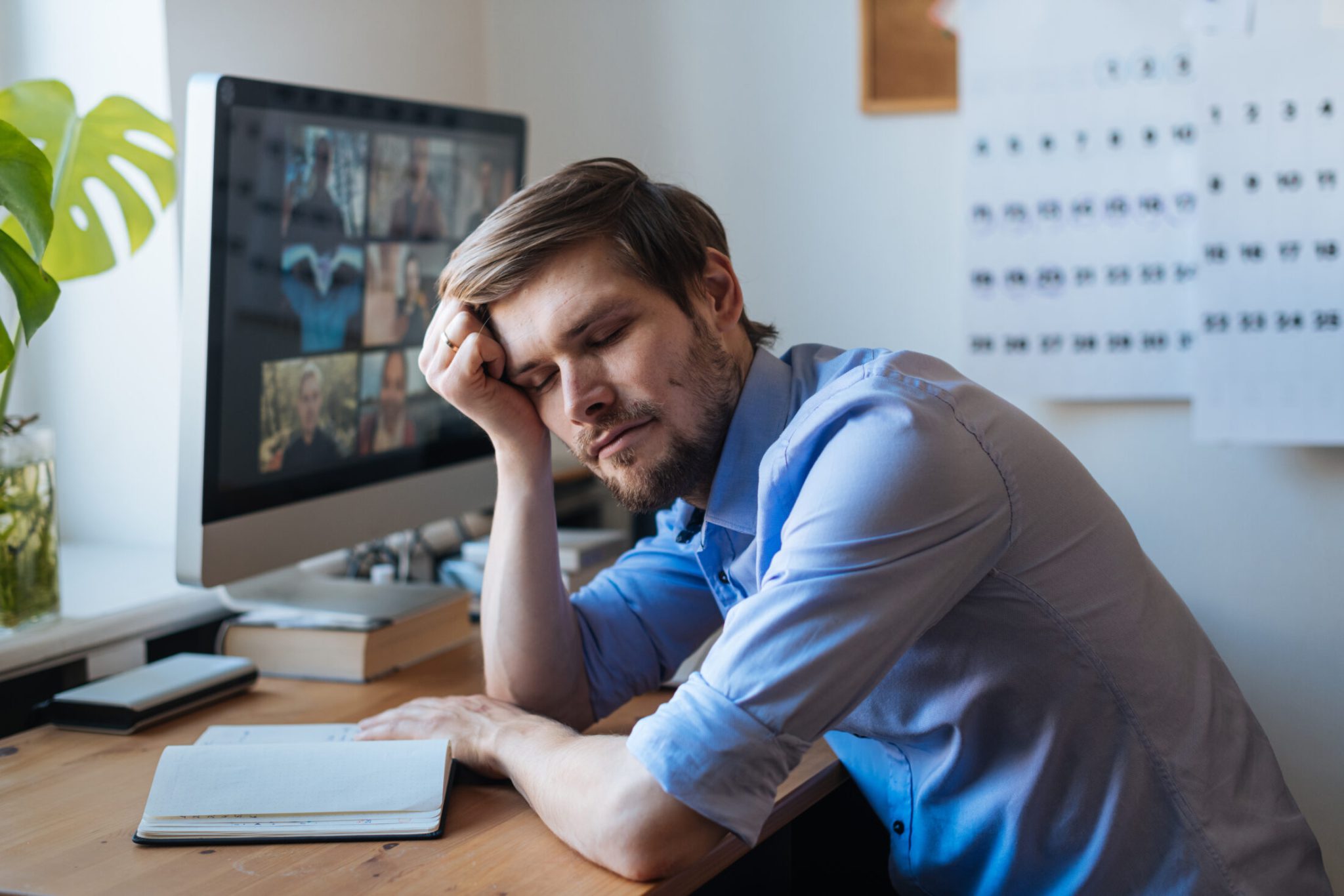 Zoom Fatigue
The crisis of "Zoom Fatigue" has gone largely unrecognized despite its harmful effects on knowledge workers and corporate decision makers – the real heroes!
With vaccines rolling out and cases in decline, it is time to give the single most harmful consequence of the COVID-19 Pandemic the attention it deserves. While deadly COVID outbreaks amongst essential frontline workers have garnered countless hours of media attention, Zoom Fatigue has gone largely unrecognized, despite its harmful effects on knowledge workers and corporate decision makers – the real heroes, who matter most to the prosperity of our glorious, neoliberal economy. 
As an HR specialist with Wells and Endowed Consulting Inc., I have experienced the effects of Zoom Fatigue firsthand and witnessed the horrors it's inflicted on my corporate clients. My inbox is overflowing with tragic stories of workplace trauma caused by daily video conference meetings that clients are forced to attend from the comfort of their own homes, chalets, or private yachts – do you have any idea how spotty the WiFi is at Little Saint James?! 
The side-effects are numerous and heart-breaking: Chronic Meeting Remorse Guilt for having to decline one meeting for another; WNOB (Webcam Narcissistic Obsessive Disorder); and Brunchus Interruptus, the persistent inability to book brunch on account of lockdown measures. As you can see, the negative effects of Zoom Fatigue are slowly bringing these unheralded heroes of the PMC to their knees.
Luckily our firm has come up with a few tips to help leaders cope with the 'new normal' of web-based meetings. Here are our top five strategies to help you thrive in a Zoom-based corporate world – follow these tips, and soon you'll be saying, "I hope the pandemic lasts forever!"
1) Record meetings and listen while you sleep: Give your Brené Brown audiobooks a break and use this simple tip to lighten your day or even double your meeting capacity. Let the meeting's tone and subliminal messages infiltrate your brain waves while in REM sleep and spark your creative decision-making vitality like never before. Warning: multiple clients have reported wet dreams when hearing themselves speak. Have your housekeeper on standby with extra sheets, as you might be in for a fun night!
2) Get the kids involved: Given the fact that entitled unionized teachers have forced your children into remote learning environments, turn that embarrassing child entrance on camera into a learning opportunity. Assign your little ones helpful tasks like: note-taking, recording the names and interests of superiors you want to impress, monitoring employee tone for signs of sarcasm and/or lack of team spirit, etc. With all that extra help you might be able to "lean out" your organization by hiring another administrative assistant or two. Did somebody say year-end bonus??? 😉 
3) Invest in Zoom contact lenses: Can't spend money on your bi-annual trip to the Maldives? Use those savings to invest in your productivity with Zoom-optimised contact lenses. These lenses enhance your ability to read employee body language and detect signs of hesitation or laziness. They also allow you to blink less and, by keeping your eyes moisturized, allow you to listen with pure, sycophantic attention to all the latest news from your CEO.
4) Share your pain with a Zoom Fireside chat: Great leaders communicate about the things that ail them, so what better way to connect with the people you lead than a fireside chat? (Fully virtual, of course.) Feel free to open up about your Zoom Fatigue and let your employees know that you suffer as they do. Don't be afraid to have fun with this one and inspire your teams by hosting the chat from your swimming pool, cottage, jacuzzi, sauna, or any of the several investment properties you own. Also, be sure to assure them that all hired help seen on camera are tested daily for the pandemic so they know you're safe. 
5) Lastly, why not treat yourself and your employees to our Zoom Fatigue workshop where our team can consult and provide personalized advice based on your organization's unique strengths and challenges? All of our workshops are offered virtually and we recommend they be held after work hours and be mandatory for all members of your organization to ensure the greatest levels of success and synergy!
Contact my new assistant for a rate card, as the last one died of some respiratory thing.
---
This post appears courtesy of our May 2021 publishing partnership with People's Labour Project. Every month, Widget partners with an organisation to feature one post/week from their contributors, members, or so on. View the other posts from our partner's contributors here.
---
Author's Pick
The Comedy Store: A docuseries about the famous LA comedy club. In one episode you get an inside look at how a strike led by icons such as David Letterman led to comedians finally earning a living wage, a collective labor action that made standup comedy a viable profession to the present day.