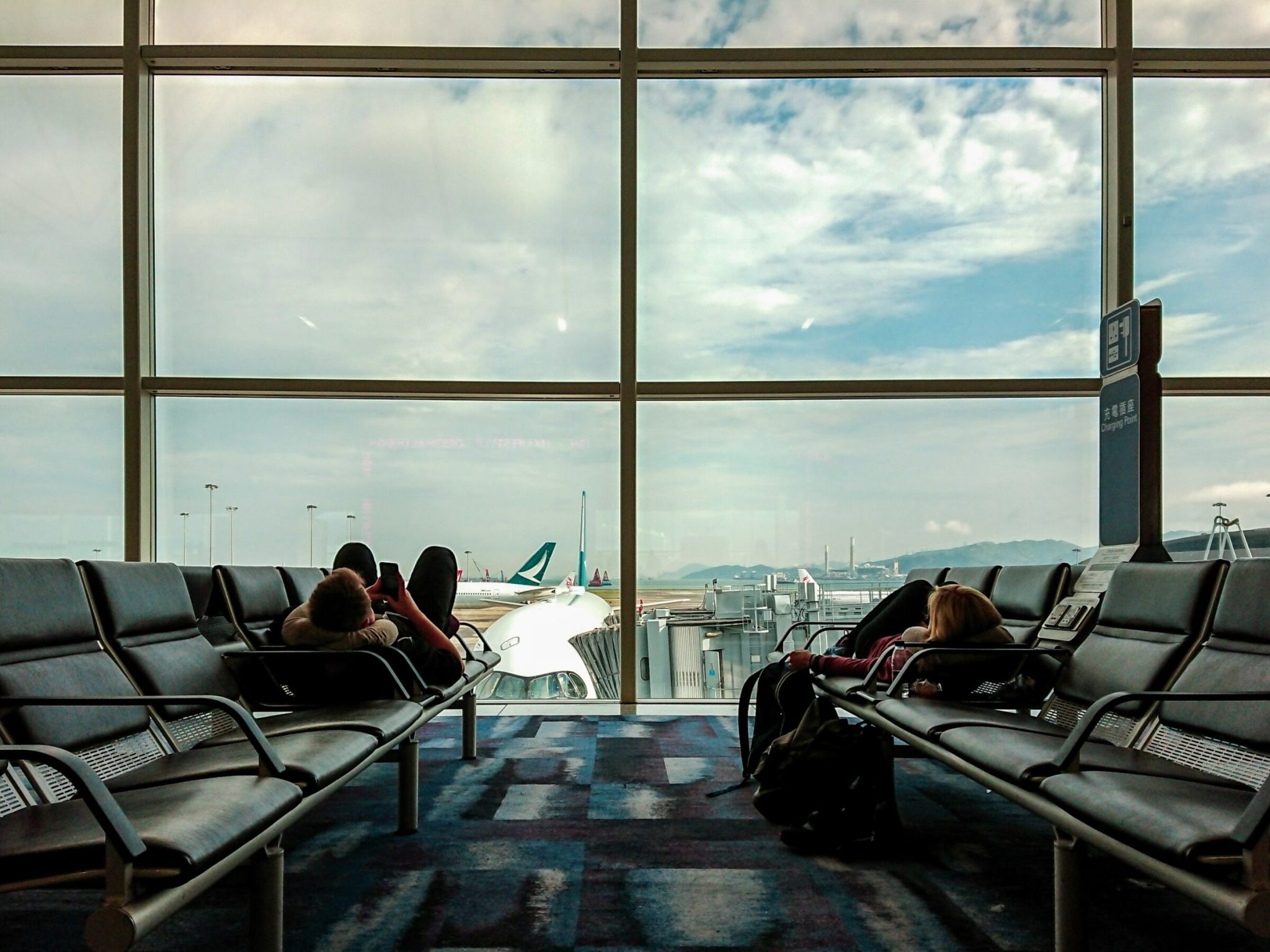 The 10 Best Spots To Sleep In The Denver Airport
This airy, open-concept "apartment in the sky" is a hassle-free area to spend the night. (Tell the staff you're with Frontier and they will let you be.)
Here at Frontier Airlines, we are thrilled to call the Denver airport our home and hub. Famous for keeping our ticket costs low, we are proud to bring you the most minimal in-flight accommodations in the business, coupled with long overnight layovers, providing you the true DEN experience. True to our spirit of customer service, we have compiled a list of the best 10 spots to sleep in the Denver airport while serving one of our signature 8-12 hour overnight stays.
1. In the corner up against the wall on that weird Staff-Only platform in Concourse A
Situated above gates A13 and A14, this spacious platform provides some of the coziest overnight accommodations one can find. This airy, open-concept "apartment in the sky" has proven to be a hassle-free area to spend the night (make sure to tell the staff you're with Frontier and leave a tip, and they will let you be). This platform also features water fountains for refreshment, as well as ample outlets to charge all your electronics.
2. Under the Frontier desk at Gate A7
Once our desks and gates close, there is no loitering in the Frontier areas *wink wink.* Our security team has explicitly been told to turn a blind eye to our A7 gate, offering you a coveted, single-serving private night's stay, tucked away next to the fax machine. Tip: make sure to check for spiders before laying your head down!
3. Inside your big coat
Not into all the frills of our other spots? Do it your way with a classic poofy winter coat. Zip it all the way up, put the hood up, sink down inside, and you're good for the night! Make sure to place your belongings either inside the coat with you, or nearby so they're touching you. Enjoy those zipped-up zzz's!
4. The fourth stall on the left flank of the men's restroom between Gates A24 and A26
We've been able to successfully procure this stall over the past few years as a sanctuary for a much-needed night's sleep. At the end of every business day, one of our technicians outfits the stall with a plush toilet cover, pillow, and a stack of travel magazines. This option is perfect for our travellers who appreciate privacy and a lockable door.
5. At the back of the underground train
Are you the type that enjoys sleeping in cars on long road-trips or even on one of our flights? You might want to consider the back bench on the underground train at DEN. It is free, and the vibration from the train will surely be the relief your tired muscles need. Sleep like a baby as you're gently rocked back and forth between Concourses A and D, all night long.
6. Just inside Carousels 1-4 at Baggage Claim
For a truly unique experience with an inside look at the day-to-day operations of the airport, check out the carousels where travellers' luggage is returned to them. We operate on 1-4, and we outfit the inside of them with left-behind neck pillows for your comfort. Just make sure you're out before they become operational again the next morning. We would like to take this moment to honor traveler Sarah Jenkins who slept for too long on the belt, and was tragically 'sorted' onto multiple flights around the country.
7. An "Outdoor Adventure" experience in the parked Frontier Shuttle
If you're the adventurous type and brave enough to embrace the elements, we highly suggest spending your layover in one of our parked shuttles, located in the ground transportation hangars just outside DEN. This spacious accommodation is perfect for families, or those who prefer a more "rugged" experience.
8. A secret night's stay in the Denver Chophouse & Brewery kitchen
The A gates feature a wide selection of restaurants and bars and Denver Chophouse tops the chart as our favorite. If you can slyly position yourself near the gate when the final closer is leaving around 9 PM, you can quickly slide under, securing a closed space to stay for the night. Feeling hungry? Help yourself to the remnants of today's garden salad, or try looking for an old, unserved dinner roll.
9. The fuselage of one of our grounded and inactive planes
For our thrill seekers, we recommend spending your overnight hours in the cargo hold inside the fuselage of one of our sitting planes. This option is for fans of puzzles and tight spaces, and we would like to state that we are not liable for any accidents that may occur either to you or to other passengers' luggage. Please make sure to check updated flight schedules so you do not accidentally board a plane full of cadavers bound for the crematorium in Western Colorado.
10. DIA Control Tower 2
Denver is of course situated on the majestic Rocky Mountains. What better way to enjoy your stay here than getting some climbing in – culminating in a majestic, 360-degree view from the DIA Control Tower overlooking the airport. Frontier Airlines is not responsible for injury nor criminal liability associated with climbing the tower to get some rest.
---
Author's Pick
"Office Hours" Podcast with Tim Heidecker, DJ Douggpound, and Vic Berger; "Sol LeWitt, A Life of Ideas" by Larry Bloom; PEN15 on Hulu; Entertainment, a film by Rick Alverson