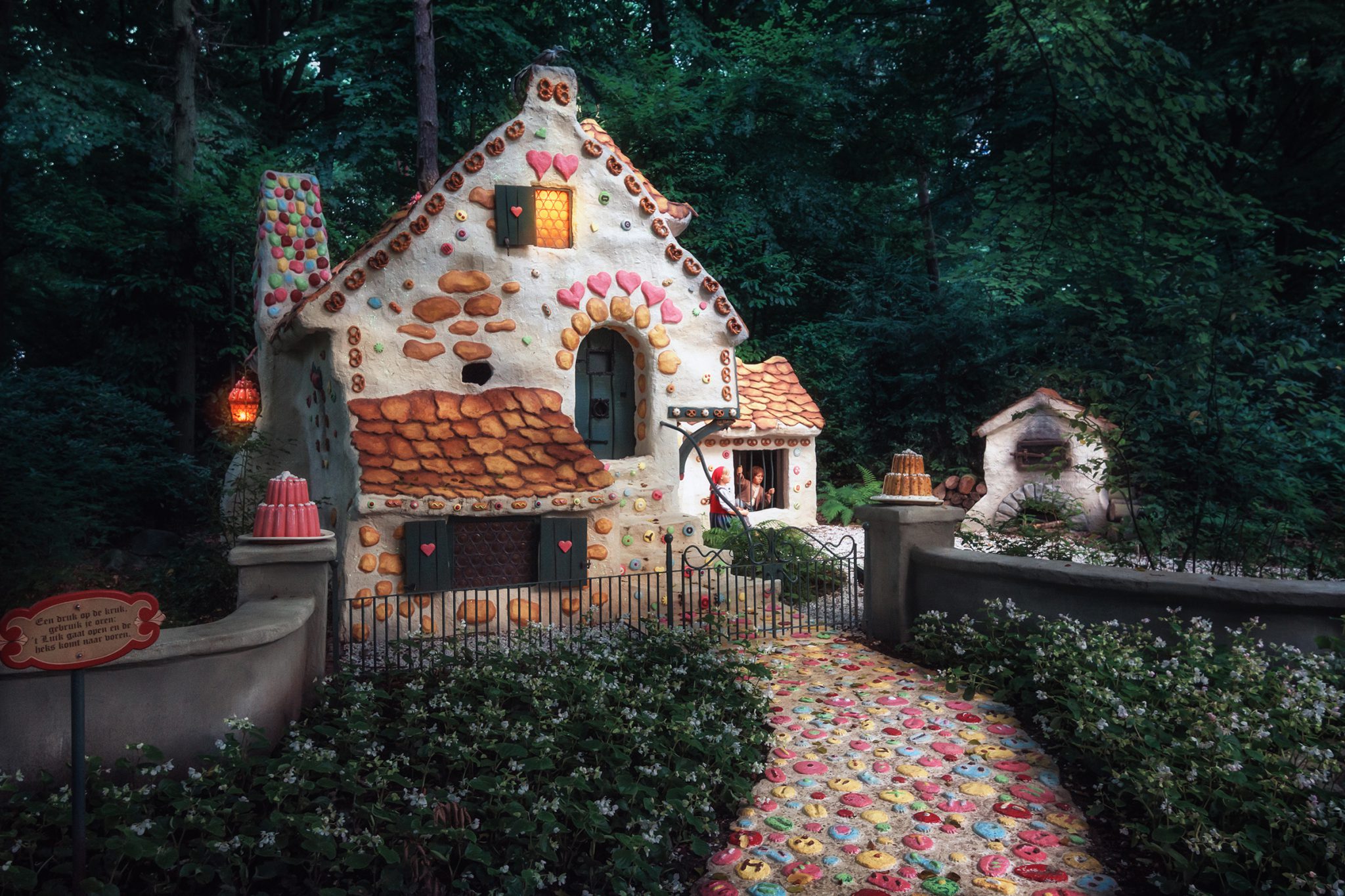 Happily Ever After Real Estate Listings
Whether you're a lovable protagonist or a cannibalistic villain, we have the perfect home for your Happily Ever After!
Whether you're a lovable protagonist or a cannibalistic villain, we have the perfect home for your Happily Ever After! These listings all have storied pasts, straight out of a fairy tale!
The Witch's House (made famous by Hansel and Gretel)
If you have a sweet tooth, we have a deal to die for! Tucked away in the middle of bread-crumb-strewn woods (but still within walking distance of great schools) is a charming fixer-upper. This is perfect for anyone who loves both baking and renovations, as this house's structure could use some confectionary improvements. Made from real gingerbread, cake, and pastries, it comes only slightly eaten. But, it will need some TLC to keep it from getting too stale or sticky. Are you a singing princess? This may be a great vacation home for you to make new animal friends!
The kitchen comes with vintage cages and a large cauldron, big enough for any child prisoners you may be preparing to eat.
Tower (previously occupied by Rapunzel)
Want to get away from it all? Look no further than the ultimate seclusion of this 1-room, 26-storey beauty. Leave your cares behind in this cozy high-rise, with all the luxuries a princess could desire. The previous owner swears by its captive-holding capabilities, especially if you remember to cut their hair sometimes. Home inspector's summary: foundations in good shape, shower drains completely clogged.
Showings available, but please bring your own ladder.
Brick House (built by the smartest of the Three Little Pigs)
A beautiful, if small, brick house. Large enough to hold multiple animals. Strong enough to withstand heavy wind storms. Includes real working fireplace – an effective deterrent to home invasion! Previous owners are offering a real wolf skin rug with purchase, provided you agree to keep the household pork-free.
Free nearby: a pile of straw and sticks.
Enchanted Castle (previous tenants: Beauty and the Beast)
Great location on the outskirts of Little Town, Quiet Village. Meticulously maintained 15-bed, 0-bath castle. Giant library, if you're one of those funny girls who enjoys reading. A forbidden West Wing adds mystery and intrigue for any curious guests.
Pre-furnished with rare, enchanted antiques, eager to serve your every need. Concerned about owning sentient beings? All furniture has the option to be returned to human form, with payment of True Love's Kiss.
Three Bear House (as visited by Goldilocks)
Do you and your roommates constantly fight over the temperature? Well, fight no more! This charming, rustic abode is the perfect home for household members of varying tastes! Featuring a welcoming kitchen, living room, and bedroom – all with three adjustable elements of warmth, size, and comfort!
Please note: this property is not human-proofed. We recommend you install a security system to prevent break-ins. Porridge insurance required.
About us: With over 5,000 years of experience, Happily Ever After Real Estate makes wishes come true. We advise contacting Rumpelstiltskin for any payment issues, who will work with you to finance your first born.
---
Author's Pick
I recommend, if you're on Twitter, following Rebecca Caplan at @NotThatReba, if you're into the comedy scene, reading Shrill by Lindy West, and, if you want to grow as a human being, finally get around to reading All About Love by bell hooks.