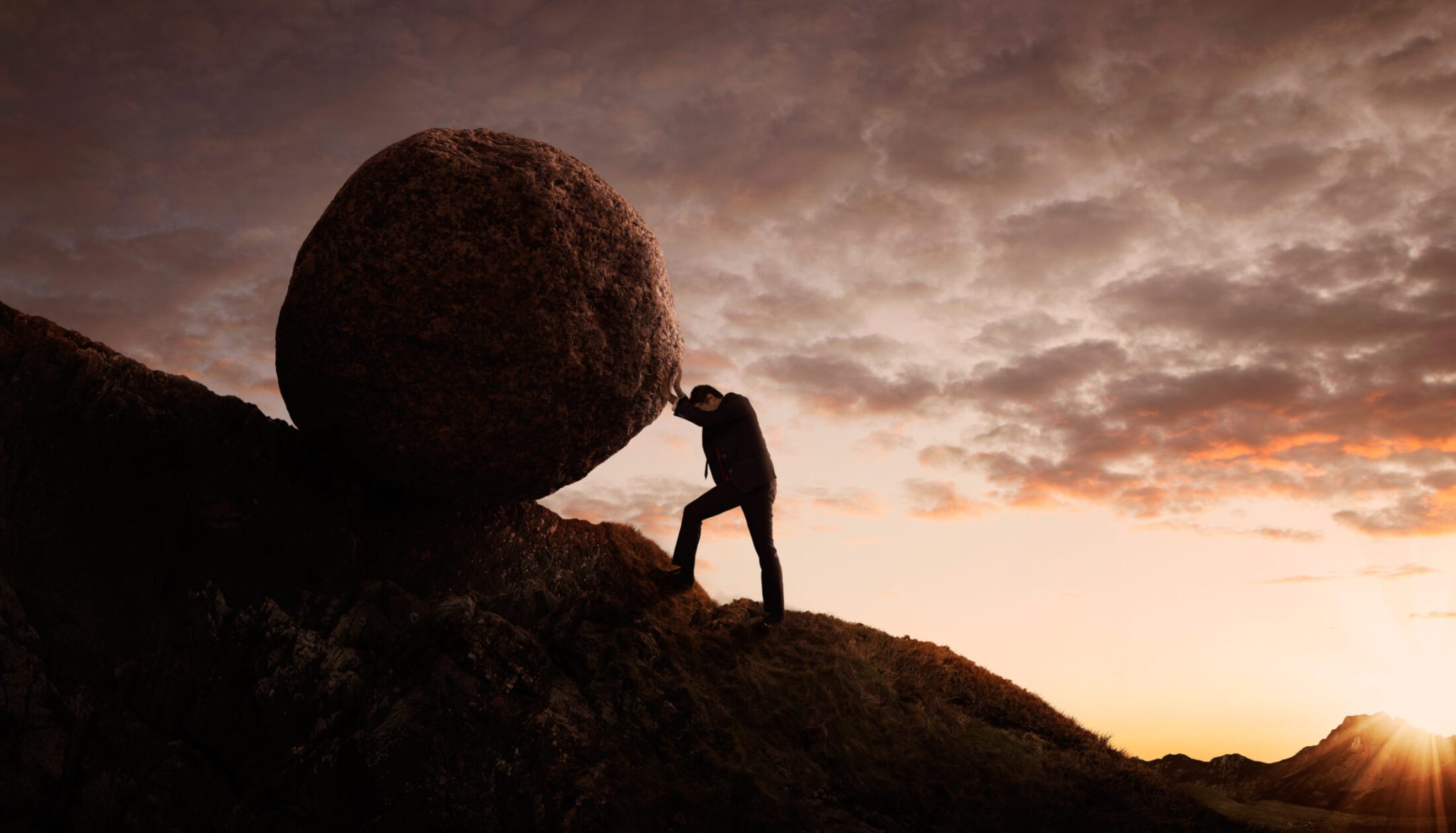 Now Hiring: Sisyphus's Replacement! (Immediate Start; Job Security Guaranteed!)
As Sisyphus's Replacement, you will have the chance to work with your hands, get fresh air, and absolutely *master* stick-to-itiveness!
Who We Are
Hades Inc. is a Fortune 500 company that deals in the evaluation, management, and damnation of all earthly souls. But we still have that scrappy startup mentality! We don't see our billions of "the damned" as workers; we see them as family. Join the #FlameFam today!
Formed at the beginning of time out of the boundless chaos, Hades Inc. is the resting place to over 100 billion associates, all of whom are required to perform meaningless, repetitive tasks forever.
Which brings us to you!
We're looking for Sisyphus's Replacement to roll a boulder up a hill in Hades's deepest layer: Tartarus! Not only is Tartarus a historically significant dungeon of torment and suffering for the wicked, it also offers unparalleled growth opportunities for self-starters with a "can-do" mentality. You'll roll an enchanted boulder up a steep hill, and when you get within 30 meters of the summit… the boulder will roll all the way back down! What a rush!
(Note: This position is especially well suited to those who also performed mind-numbing, meaningless, and seemingly endless tasks on earth, such as IT support and podcasting.)
This torture job opportunity was designed specifically for Sisyphus, who thought he was clever enough to escape Hades — after all, how hard can it be to roll a frigging rock up a frigging hill, huh? Pretty frigging hard, it turns out! (In fact, he's actually tried to pass the job off to another sucker before through fake job listings – but this is definitely not one of them!)
What We're Looking For
As Sisyphus's Replacement, you'll work in the Eternal Damnation department. You'll be a key member in helping shape future punishments — all while being punished yourself. Some other notable punishments include:
Pirithous, who tried to steal Hades's wife, Persephone, and now forever sits in a throne of snakes (while the bites still really hurt, you can't "die" again!);
Tantalus, who tried to poison the gods, and now forever stands—aching of hunger and thirst—in a blood river (again, it really hurts, but it's basically 24/7 spa time!);
And of course Steve, who only referred to gods by their Roman names, and now forever writes their true Greek names in cursive on a chalkboard (this one just sucks, but it's a great learning opportunity!).
Compared to these other punishments jobs, this one's not actually that bad! As Sisyphus's Replacement, you will have the chance to work with your hands, get fresh air, and absolutely master stick-to-itiveness — all while being lashed the entire trip up by three cackling furies.
If this sounds exciting, read on!
What You'll Do
Roll a boulder up a hill, forever, never reaching the summit
Additional tasks as assigned by management, up to and including: taunting Tantalus, checking Steve's spelling, and completing some light data-entry
Qualifications
7+ years in a rock-rolling role
Ability to respond to the name "Sisyphus" in a fast enough manner that no one would get suspicious
Look like Sisyphus (negotiable)
Willingness to sign a Non-Disclosure Agreement that you will pretend to act like Sisyphus at all times (non-negotiable)
Proficiency in Microsoft Excel (this is Hell, after all)
Perks
Unlimited lack of PTO
Stylish Hades Inc. swag, delivered upon completion of assignment
Free snacks and drinks at break room on top of the hill
How to Apply
If interested, find Sisyphus in Tartarus at the bottom of the steep hill. Tell no one you're coming. He will swap places with you immediately (provided you meet the above qualifications and sign the NDA). Tell no one where I Sisyphus runs off to.
And remember, have fun!
---
Author's Pick