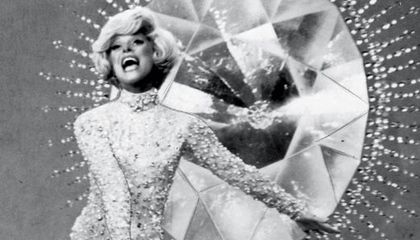 A Note About Widget
A quick note to clear up some Widget-related confusion.
There's been some confusion about our lil' ole' website and we simply gotta clear it up.
Widget has NOTHING to do with…
Carol Channing!
We have literally no idea how this rumour got started. Widget is not a Carol Channing fansite. It's a comedy magazine. Not a Carol Channing site. Don't get us wrong: she's great! Notable for starring in Broadway and film musicals, Ms. Channing's characters typically radiate a fervent expressiveness and an easily identifiable voice, whether singing or for comedic effect. But this isn't about that.
A Little Bit About Us
History of Widget
Widget was founded in 2017. Carol Channing, on the other hand, began as a Broadway musical actress, starring in Gentlemen Prefer Blondes in 1949, and Hello, Dolly! in 1964, when she won the Tony Award for Best Actress in a Musical. She revived both roles several times throughout her career, most recently playing Dolly in 1995. Channing was nominated for her first Tony Award in 1956 for The Vamp followed by a nomination in 1961 for Show Girl. She received her fourth Tony Award nomination for the musical Lorelei in 1974.
A smattering of reviews
The Critics on widgetmag.com
If I were alive today, I would be writing for Widget. They are basically the "Huck Finn" of silly blog posts. (What if Huck Finn were named Fuck Hinn?! But I digress.) I have never been prouder to be an American than reading this Canadian humour site. God bless you, Widget, and may He save your progeny from pestilence and disease!

Mark Twain, dec. Author of The Alchemist by Paulo Coelho
Have you ever wondered why Carol Channing is still doing "Hello, Dolly!" after more than 4,500 performances, at 74 years of age? You need only see her face when the applause comes rolling over the footlights, and you will understand. You have only until Sunday to see her, and the show, at the Orange County Performing Arts Center.

Laurie Winer. Times Theatre Critic
Not since Joseph Jefferson, who played "Rip Van Winkle" for most of the second half of the 19th century, has any American performer been so long identified with a single role as Carol Channing with Dolly Levi, nee Gallagher, in "Hello, Dolly!" Ms. Channing first played the formidable matchmaker in the show's premiere Broadway engagement starting in January 1964.

Vincent Canby. NY Times Theatre Reviewer
---
Now that you know a bit more about us:
Enjoy Widget and enjoy Carol Channing!