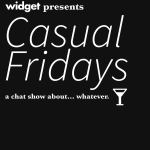 Kai and Sam enjoy a call from Justin Kaplan from The Boston Accent and Boston-area stand-up Dave Vadala from the soon-to-be-released The Comic's Feature podcast. (And here he is on Instagram, so you can find out when it's released.)
We talk COVID stand-up sets, cigarettes, Cheers and Frasier.
If you wanna follow along, Justin read these Boston Accent two pieces:
While talking Boston music, Dave recommended Blue Ocean; Justin recommended Anjimile.
And why don't you try your hand at "Cheers: Spot the Fake"?!
RIP Phil Haggerty of Somos
On a heavy note, Sam invited listeners to learn about Phil Haggerty, guitarist of Somos, and fight for a better world in his memory by reading this piece – Suicide by Capitalism by his surviving partner – and of course, when you're done, blast their Prison on a Hill album.
Playlist